Basketball
Southeastern downs rival Tigers
Gosoutheastern.com
ADA – Kellen Manek turned in a career-high 29 points to lead a foursome of double-digit scorers as Southeastern picked up an 81-64 road victory over rival East Central on Thursday night in Ada.

The win lifts the Savage Storm to 18-6 overall and 12-5 in Great American Conference play heading into a 3 p.m. matchup with Northwestern Oklahoma State on Saturday in Bloomer Sullivan Arena.

Manek turned in a new career-high for the second-straight outing and passes the 20-point plateau in the second-straight game and the fourth of his last five. He finished the night with five threes and shot 9-of-17 overall form the field.

Kevin Buckingham was next in line with 18 points on 9-of-13 shooting, with his only four misses coming from outside the arc.

Kayo Goncalves was right behind with 14 points and completed the double-double by matching his career-high in rebounds with 16.

Al Ervin came off the bench with 10 points to round out the double-digit scoring.

Adam Dworsky was held to seven points but triggered the offense to the tune of 12 assists and will head into Saturday's matchup needing four dimes to become Southeastern's career leader in assists.

SE hit seven first-half threes, with Goncalves connecting on three of them en route to his team-best 11 first-half points while Manek turned in 10 over the first 20 minutes.

ECU jumped out to a 6-0 lead to open the game and led 12-5 at the 13:06 mark of the half before a Goncalves three kick started a 12-0 run that was also capped by a Goncalves three to take a 17-12 lead.

The Tigers would trim the Storm lead to three points on a pair of occasions before an 8-0 run would give Southeastern a 30-19 advantage with 4:40 to play.

ECU would outscore SE 10-6 over the final four minutes and the Storm lead would sit at 36-29 at halftime.

The Tigers would close the deficit to six points twice early in the second half, the last time coming at 44-38 with 16:06 to play.

From that point on the Storm would catch fires as an Ervin layup with 15:31 to go kicked off a 27-6 run that was capped by a Dworsky layup with 8:06 to play and giving SE a 71-44 lead.

The lead would peak again at 27 points on a Buckingham bucket with 7:30 to play.

ECU would chip away over the final seven minutes but would get no closer than 17 points which would match the final differential as the Storm held on for an 81-64 victory.
Cold second half dooms SE women
Gosoutheastern.com
ADA – It was a tale of two halves for Southeastern as 53.6 percent shooting first half turned into a 23.1 percent second half effort in a 77-65 loss at East Central on Thursday night in Ada.

The loss drops the Savage Storm to 15-6 overall on the season and 12-5 in Great American Conference play heading into a Saturday home matchup with Northwestern Oklahoma State at 1 p.m. in Bloomer Sullivan Arena.

Katie Webb and Briley Moon each put up 20-point efforts in the loss, with Webb finishing with 25 for her ninth 20-plus point outing of the year while Moon's 20 points was her third such outing.

Haiden Williams added eight points in her first career start, while Kamryn Cantwell finished with five.

Moon pulled down a team-high eight rebounds, while Cantwell added five.

Southeastern hit 6-of-9 from three-point range in the first half, including a 3-for-3 effort in the second quarter while knocking down 15-of-28 overall from the field.

Webb and Moon each posted double-figure halves with 12 and 11 points, respectively.

After the Tigers took the early lead out of the gate at 3-2 it was the Storm would control the remainder of the first quarter, outscoring ECU 19-8 to take a 21-11 lead after one quarter.

SE would score the first five points of the second quarter on a Webb layup and a Williams three to go ahead 26-11.

The Storm would push its lead to as many as 16 points in the quarter before the Tigers closed to make the halftime advantage 38-25.

The third quarter belonged to ECU as Southeastern went cold, hitting 26.7 percent from the field and getting outscored 22-13 as the Tigers shot 75.0 from the field and closed the Storm edge to 51-47 after three quarters.

The woes continued into the fourth as ECU opened the quarter on a 17-2 run to take a 64-53 lead before a Webb three at the 4:19 mark ended the run.

Unfortunately, the Storm were unable to shift the momentum after that and would finish game getting outscored 30-14 overall over the final quarter as SE dropped the contest 77-65.
Heavener girls, Stigler boys rally late
By CRAIG HALL
Stigler's boys held Heavener scoreless for close to three minutes and scored nine straight points to take a 69-62 win over the Wolves Thursday in Black Diamond Conference play.
Heavener's girls finally shook the Lady Panthers late in the opener for a 58-49 victory.
Heavener visits Talihina Friday in another conference game while Stigler goes to Sallisaw Monday.
Girls
Heavener's Milaya Riddley drives the baseline in Thursday's win over Stigler.
Heavener's Milaya Riddley hit a free throw late in the third quarter to give the Lady Wolves the lead for good at 40-39.
It was part of a 15-5 run that finally gave Heavener some breathing room. The Lady Wolves (15-5) once again played without a pair of key players, Carlee Watkins and Kinlee Free, both out with injuries.
Heavener trailed 27-22 at the half before outscoring the Lady Panthers (11-11) 36-22 in the second half.
Shaelena Bacon led Heavener with 22 points and Riddley added 12, 10 in the third quarter.
Ralee Parker's 14 points paced Stigler.
Heavener 58, Stigler 49
SHS 13 14 12 10—48
HHS 13 9 18 18—58
Stigler—Mattie Self 3 1-2 2 8; Savannah Seymore 1 1-1 2 3; Madison Needham 2 3-4 4 7; Ralee Parker 4 5-7 4 14; Jade Maxwell 0 0-0 3 0; Chloee Smith 5 1-4 4 9; Dara Hamlin 0 0-1 2 0; Saylee Smith 1 2-2 2 4. TOTALS: 16 13-21 23 48.
Heavener—Morgan Smith 3 1-2 3 7; Lexy Chick 1 4-6 2 6; Sammie Jo Taylor 0 4-6 2 4; Milaya Riddley 6 0-3 1 12; Shaelena Bacon 7 8-9 2 22; McKinley Alexander 1 3-6 2 5; Cecelia Edwards 0 0-0 1 0. TOTALS: 18 20-32 13 58.
Boys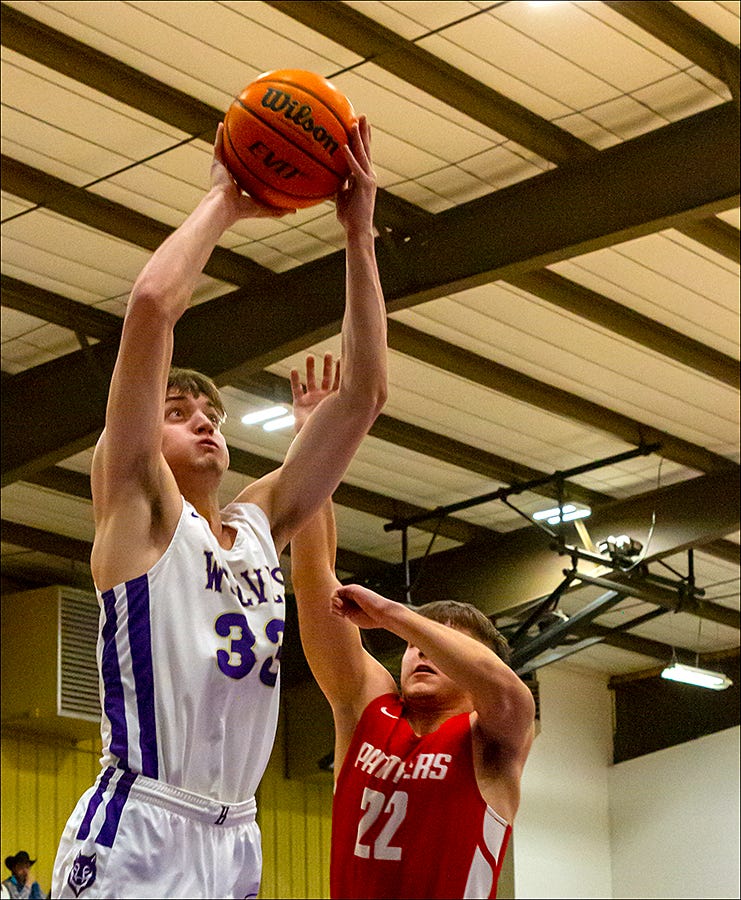 The Wolves' Brandon Crase goes up for a shot as Stigler's Ridge McClary defends.
After three straight baskets by Logan Davis, Heavener (5-13) held a 62-60 advantage with 2:57 remaining. The Wolves were blanked the remainder of the game while Stigler went on a 9-0 run to seal the victory.
Jose Ramirez, Davis and Brandon Crase all had 16 points for Heavener.
Zane Oldham led Stigler (14-6) with 20 points, Jalen Cloud added 15 and Luke Adcock finished with 12.
Stigler 69, Heavener 62
SHS 17 19 17 16—69
HHS 17 13 20 12—62
Stigler—Jaxon Calhoun 3 3-7 1 9; Jalen Cloud 5 2-3 3 15; Devon Wilson 2 0-0 2 4; Zane Oldham 6 4-4 2 20; Ridge McClary 3 3-5 2 9; Luke Adcock 4 4-4 1 12. TOTALS: 23 16-23 11 69.
Heavener—Trace McDaniel 1 1-2 3 3; Jose Ramirez 7 2-4 2 16; Macedonio Jacinto 3 0-0 2 6; Brandon Crase 7 2-4 0 16; Logan Davis 8 0-0 3 16; Graceon Huggins 1 0-0 2 3; Ely Stapp 1 0-0 3 2. TOTALS: 28 5-10 15 62.
District tournaments start Friday
District tournaments start Friday for Class A and B teams in Oklahoma.
Here is a list of games involving southeastern Oklahoma teams:
Boys
Class A
Area II
Keota vs. Arkoma (Kiowa) 8 p.m.
Cameron vs. Clayton (CASC) 8 p.m.
Area IV
Indianola vs. Westumka (Crowder) 8 p.m.
Webbers Falls vs. Porum (Quinton) 8 p.m.
Fort Towson vs. Bennington (Smithville) 8 p.m.
Haileyville vs. Strother (Roff) 8 p.m.
Class B
Area II
Bokoshe vs. Midway (Kinta) 8 p.m.
Wilson vs. McCurtain (McCurtain) 8 p.m.
Area IV
Thackerville vs. Caney (Thackerville) 8 p.m.
Coleman vs. Milburn (Whitesboro) 8 p.m.
Achille vs. Eagletown (Battiest) 8 p.m.
Panola vs. Buffalo Valley (Braggs) 8 p.m.
Pittsburg vs. Mills Creek (Moyers) 8 p.m.
Girls
Class A
Area II
Arkoma vs. Keota (Kiowa) 6:30 p.m.
Clayton vs. Cameron (CASC) 6:30 p.m.
Area IV
Wetumka vs. Indianola (Crowder) 6:30 p.m.
Quinton vs. Webbers Falls (Quinton) 6:30 p.m.
Fort Towson vs. Smithville (Smithville) 6:30 p.m.
Haileyville vs. Roff (Roff) 6:30 p.m.
Class B
Area II
Bokoshe vs. Midway (Kinta) 6:30 p.m.
Area IV
Thackerville vs. Boswell (Caney) 6:30 p.m.
Coleman vs. Milburn (Whitesboro) 6:30 p.m.
Stringtown vs. Victory Life (Stringtown) 6:30 p.m.
Achille vs. Eagletown (Battiest) 6:30 p.m.
Panola vs. Buffalo Valley (Braggs) 6:30 p.m.
Moyers vs. Mill Creek (Moyers) 6:30 p.m.
Baseball
Eastern handles CASC
WILBURTON - Eastern Oklahoma State College handled Carl Albert State College, 12-3, Tuesday afternoon.
The Mountaineers broke a scoreless deadlock with an eight-run outburst in the third inning to take control of the game.
For CASC, Mac Moody was 2-for-3 with a double and a run scored, Alex Gonzalez doubled, Ryan Makerney singled, scored once and had a run batted in and Gavene Revene singled with an RBI for the Vikings (1-4).
Ethan Trivitt (1-1) suffered his first loss of the season, lasting 2.1 innings with a strikeout but allowing five runs on six hits. Daven Blanco got the final two outs of the third inning with a strikeout but gave up three runs on three hits. Garrett Maxwell went the next 1.1 innings with a strikeout and allowed no earned runs but allowed two unearned runs on a hit. Canyon Thiel went the next 2.2 innings with three Ks but allowed two runs, one unearned, on three hits. Raceton Sedlacek pitched a scoreless eighth inning.
The Vikings will return home for a pair of noon doubleheaders Friday and Saturday at Ival Goodman Field at Mark Pollard Park.
Editor's Note: Tuesday afternoon's Carl Albert State College road conference doubleheader against Murray State College at Tishomingo's Johnston County Sports Complex was rained out and has not been rescheduled.
Wrestling
Poteau senior 126-pound wrestler Skyler Hawk, top, grapples with Greenwood, Arkansas wrestler Cooper Culverson during Tuesday's Senior Night Dual at Sherman Floyd Fieldhouse. Photo by David Seeley/Sports Editor
Poteau wrestlers lose to Greenwood
By DAVID SEELEY, Sports Editor
POTEAU – The Poteau Pirates wrestling team ended its regular season on a down note by losing 53-24 to the Greenwood, Arkansas Bulldogs on Senior Night on Tuesday at Sherman Floyd Fieldhouse.
The Pirates (5-5) won five matches, three of those by pins – Skyler Hawk at 126 pounds, Bailey "B.J." Kneisley at 138 and Will Restine at heavyweight.
The other two wins by Poteau were both decisions, a 7-0 win by Ethan Carey at 170 pounds and an 8-1 win by Dauntay Warren at 182 pounds.
The Bulldogs won four of the remaining nine matches by forfeit, giving them 24 points. Of the remaining five matches Greenwood won, four were by pins and one was by a 22-7 technical fall.
Prior to the dual, Poteau's senior trio of Hawk, Kneisley and Warren, all three winners on the night, were recognized.
"You always want to win, especially when you're at home," Poteau coach Chris Ford said. "We especially wanted to win for our seniors, but it's tough. They're a good group of guys. They work hard. They always face adversity well. It's time to finish this one up and look forward to regionals."
The last concrete date left on the schedule is the Class 4A Regional Tournament, which will be Feb. 21-22 at Bristow. It will be up to each Pirate matman to punch his ticket to the state tournament, which will be Feb.28-29 at State Fair Arena in Oklahoma City.
"This (the regional tournament) is what it all boils down to," Ford said. "You prepare all season long. You go through the grind. After football season ended in December, this is what we've been getting ready for."
---